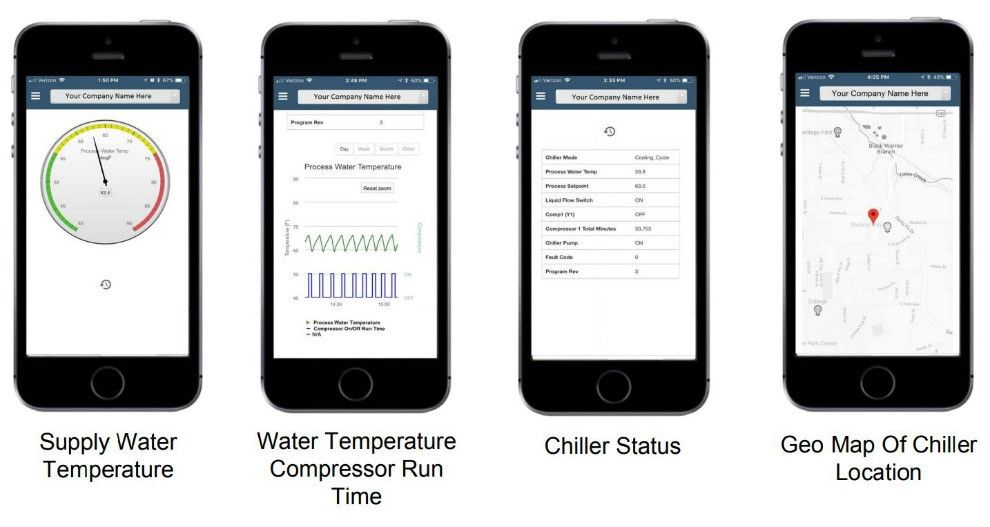 GET PREDICTIVE MAINTENANCE AND MONITORING
Real-time Monitoring & Predictive Maintenance with Cold Shot Guardian®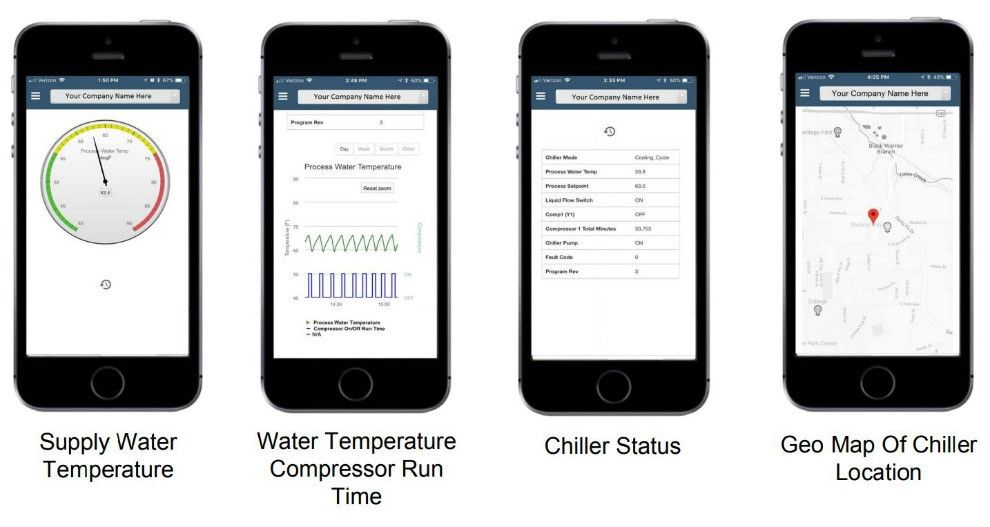 Cold Shot Guardian® is our real-time monitoring app that automatically scans your industrial chillers for potential issues and notifies you via email or text immediately when they occur. The timely detection of problems may be the difference between a minor repair and a damaged chiller or loss of product!
App Functionality
The Cold Shot Guardian® application monitors water supply temperature, the water temperature compressor run time, chiller status, refrigerant pressures and temperatures, and a geo-map of its location. The system monitors all critical operation values and will send alerts if conditions are conducive to poor performance. Alerts, alarms, machine fault codes, a permanent record of total run status, and all monitored values are displayed on the in-app dashboard.
Compatibility
The Cold Shot Guardian® "Smart Chiller" Real-Time Monitoring Package is compatible with both iOS and Android operating systems. You can use the app on your mobile devices or tablets.
Benefits of using the Cold Shot Guardian
Get instant messaging notifications on-the-go concerning the status of your chillers. Real-time monitoring using the Cold Shot Guardian® app helps you to detect problems that could save your organization from huge repair costs and costly downtime on critical repairs.
You can use machine status codes from the Guardian app to accurately schedule preventive chiller maintenance to protect your industrial chiller systems. The Guardian app monitors essential parameters like your process and set values, internal temperature, and the chiller refrigeration pressure.
Trust Cold Shot for Smart Chiller Solutions
Cold Shot Guardian® is just one example of a solution that makes your life easier by improving your business processes. As one of the leading industrial chiller manufacturers in the industry, we offer several models of air cooled and water cooled industrial chillers that can enhance your operations.
For more information or to request a quote, contact us online today, or give us a call +1.800.473.9178.